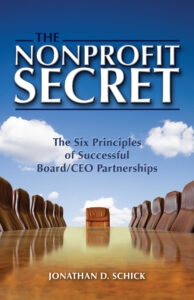 Why do some nonprofits thrive while others fail?
True success lies in a strong, effective board/CEO relationship. But how do organizations conquer the challenges and conflicts that hinder this partnership and inhibit positive change?
Author and leadership consultant Jonathan D. Schick has the answer. In The Nonprofit Secret: The Six Principles of Successful Board/CEO Partnerships, Jonathan Schick provides the tools nonprofits need to overcome inefficiencies and realize their full potential.
A must-read for nonprofit organizations that want to increase productivity and soar to new heights. Discover how to:
Empower all of your board members
Evaluate CEO and board performance
Enact an effective and ethical system of governance
Enhance the partnership between the board and CEO
Books are available for purchase. Click here to order!
To purchase multiple copies at a discount, please contact us at [email protected]